Melbourne's icons as mirrors of culture
If you're having a coffee in Lygon Street or strolling along Bourke, you'll notice a bold, bright tram running along Routes 6 and 19.
Wrapped in larger-than-life family portraits of St Albans Heights Primary School Community Hub members, this Melbourne icon is expected to be viewed by thousands of people over the next six months.
St Albans Heights Primary School, in the North West of Melbourne, has representation from 38 different cultures and backgrounds.
The school's Community Hub members are proud of their heritage and equally proud to be Melbournians, so they came together to develop and design a submission to the 2017 Melbourne Art Trams Project.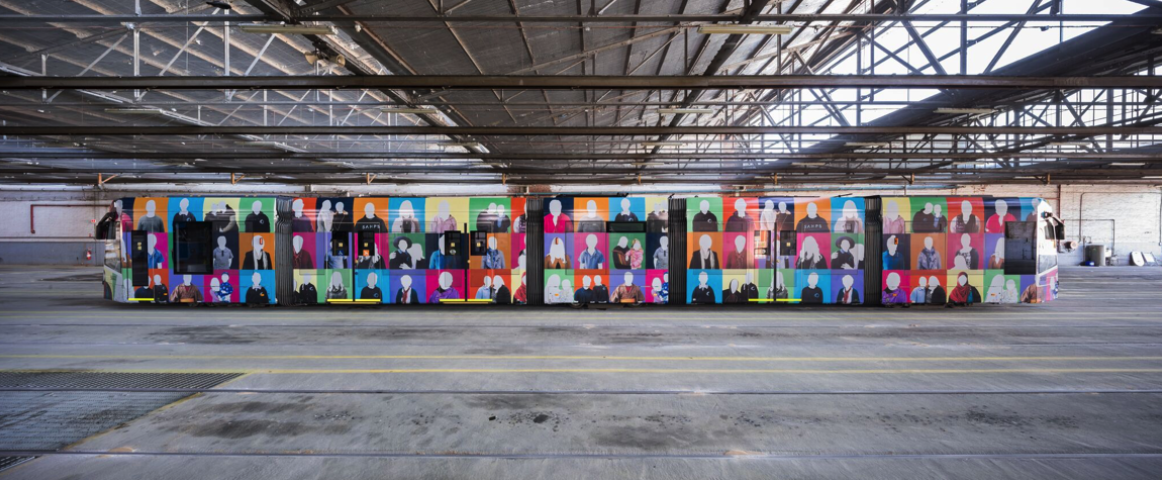 Photo credit James HH Morgan
The families chose to create series of portraits that represented their community's diversity of age, gender, cultural heritage, language.
The burgeoning artists needed to consider practicalities; the design would have five seconds to make an impression, and black is a hazard because it isn't visible at night.
The group decided to use sharp and lively coloured squares, inspired by Andy Warhol's pop art.

Photo credit Aaron Cullen
"With modern technology, a design like this could have been done entirely through computer – but to truly collaborate, hub members forgo modern technology so everyone could be involved." Hub Leader, Sophie Jamieson said.
Hub members took their photographs and used stencil tracing techniques, then painted each portrait background by hand.
The result shows that, just like their school, Melbourne is proudly diverse, creative, and culturally rich.
Their playful and engaging art was then photographed, transferred to vinyl and 'wrapped' around their tram.
"Our families are so proud for Melbournians to see their work and hope everyone enjoys seeing the tram as much as they enjoyed making it."
You can vote for the St Albans Heights Primary School tram in the People's Choice Awards! The artist with the most votes will win a $5,000 cash prize. You can vote here:
https://www.festival.melbourne/2017/events/melbourne-art-trams/peoples-choice-award/
Voting closes on Monday 27 November at 11.45PM and the winner will be announced on Tuesday 28 November at an event in the evening.