School Outcomes: Improving the Capacity of Schools
Research into the impacts our community hubs are having on their host schools has shown that hubs are improving the schools' respect for cultural diversity and their capacity to respond to the needs of migrant families.
A key priority for school principals and teachers is supporting student learning and wellbeing.
Hub leaders are able to network and bring resources and organisations into the school that increase the capacity to support families, particularly those with special needs such as newly arrived migrants and refugees.
By getting to know families and understanding their strengths, hub leaders can help them to become more involved in the school community. This also provides schools with additional volunteers to help inside and outside the classroom.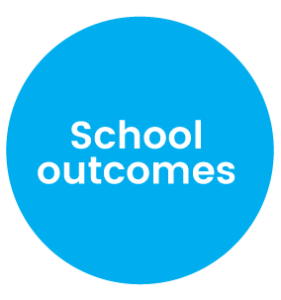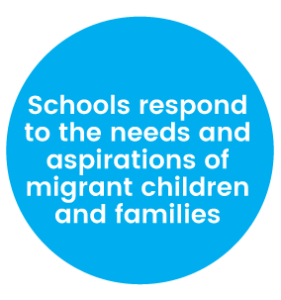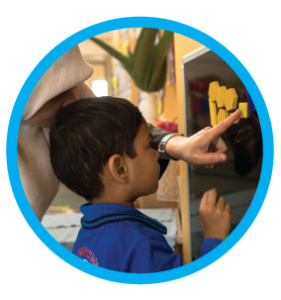 The difference a good cup of coffee can make
Banksia Road Public School's hub leader, Marina, recognised that one of her priorities was to strengthen the relationships between parents and teachers. Many of the mums she'd been working with were keen to build their skills, which led to the idea of starting a coffee café.
The women completed barista training and on three days a week they make and sell cheap coffee (sometimes cake as well!) to the teachers, who look forward to these new interactions.
This program helps raise money for hub activities and also teaches the women valuable business skills. Importantly, providing this informal service is helping teachers get to know these mums while also gaining a better appreciation of what the hub does.
Marina has noticed the significant difference this program has made for these women. For example:
they are more confident and self-reliant – a huge shift from when they started
they feel worthwhile, valued and have something to offer back to the community
they get out of the house and feel energised, are often laughing and bringing joy to others
they are learning how to run a business, gaining an understanding of how to take orders, handle money and provide customer service
they feel trusted, and
they are no longer stay-athome mums.
The café has evolved into a place where other parents come and grab a coffee and chat to each other. The coffee is just the incentive; it's more about how the café space is bringing families and school staff together for informal social time.
Marina says it's been wonderful watching these relationships develop over time.
Connecting schools with the community
Hub leaders from the City of Logan offer the following tips about how to connect schools with important programs and services:
Get school leadership and staff on board by helping them to understand the importance of getting families involved in the school before a child starts prep. Explain how this helps the children become school ready.
When a child starts school already well behind other children in terms of being ready to learn, it makes the teachers' job more difficult as that child requires more time and resources.
At our hubs, our transition-toschool programs are helping to identify developmental delays or problems with children early. This gives the school time to plan ahead and put in place the right staff and resources to support those children when they eventually start school.
For the children and parents, being involved in a Transition to Prep program gives them time to build confidence and familiarity with the school and introduces them to the learning experience.
Build relationships with your local councils. They can help you connect into networks and also help directly with hub programs. We received a grant from Logan City Council that funds a music therapist to work across the hubs in our Pathways to Prep initiatives. The music therapist is a great addition to build school readiness skills such as taking turns, using your voice, asking for help, independence and resilience, lining up, packing up, and working within a group.
Connecting families with each other and the school
From: Fatima
Sent: Wednesday, 22 June 2016 9:27 AM
To: Maria; Meaghan; Siba; Loukia; Sonja; Luke; Marta
Subject: Yagoona Public School Hub Community Dinner
Dear Meaghan/Maria/Siba and Yagoona Public team,
Thank you for the opportunity to share last night's community dinner with your school community.
I have to say it was one of the best community events I have attended, despite the challenges of the very short time it took to coordinate (2 weeks??/no budget??) and not knowing how many people will show up!
I was overwhelmed by the spirit and talents of the organising committee and staff. They made the place look amazing and gave it a real welcoming feeling, filled with so much energy and generosity.
When I arrived around 4pm there were a few people in the event area. I asked one of teachers how many people they expect will attend, she said: we are not sure, we didn't get a response from the notes we sent out. I felt a bit nervous but thought there were about 20 people around and it would still be a nice event.
Around 4.30pm parents started to come in loaded with yummy food to share with other families. Extra tables had to be added to fit the amount of food that was coming in. Even the hall, which was set to accommodate around 150 people overflowed into the outside playground area where more tables were set to fit the families and their children. It was really exciting to see hundreds of parents and children mingling together, smiling, enjoying each other's food and sharing recipes with a great sense of pride.
Please accept my sincere congratulations for supporting and motivating your team to host the event and pass them on to your team for their amazing efforts in managing the event. It was an absolutely fantastic night.
Warm regards,
Fatima
NSW Community Hubs Manager
Settlement Services International
Additional note from the national hubs support team: As well as being delighted to hear about the success of this event at Yagoona Public School Hub, we were also pleased that Fatima cc'd CHA's CEO, Sonja, and other members of our national team into her email, so we could also hear about this wonderful success story.
Fahriye shares the importance of embedding the hub in the school